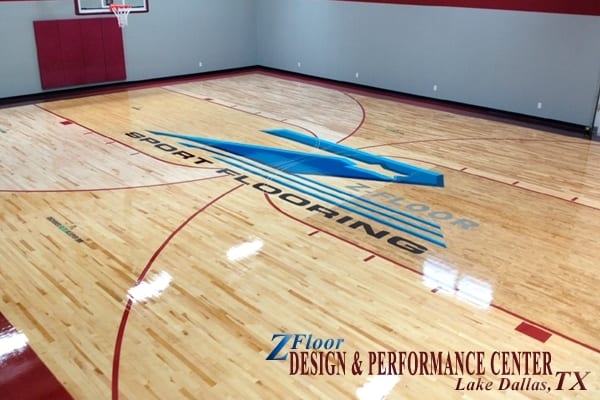 Z Floor specializes in designing, constructing, installing, maintaining, and repairing of athletic flooring surfaces across sports facilities and recreation centers all across Texas!
We offer different floor systems, including wood flooring for residences, rubber flooring for indoor tracks, vinyl flooring for basketball courts, Marley dance floors for dance studios, and playground surfaces for schools.
Our Design and Performance Center is located in Lake Dallas, Texas. The building features 10 ft x 10 ft floor pods so you can see all the different grades of wood we offer. The showroom also includes samples of other flooring types.

Our mailing address is:
Z Floor Co., LTD
350 Betchan Avenue
Lake Dallas, Texas 75065
Our Telephone Numbers are:
940-497-4994 – Voice
940-497-5044 – Fax
Our Email Address is:
sales@zfloor.com

---
---
Athletic and Gym Flooring Services offered by Z Floor
---
WOOD FLOORING
Wood Floor Installs
Screen and Recoat Hardwood Floors
Screen and Recoat Gym Floors
Wood Floor Repairs
Wood Floor Sand and Finish
Wood Floor Water Damage Repair
Gym Floor Logos
Wood Flooring Installs
Basketball Wood Floors
Sport Flooring
Gym Floors – Resurfacing
Gym Floors – Refinishing
Hardwood Floors
Wood Floor Staining and Bleaching
Dance Floors
Sprung Floors
Marley Floors
---
OTHER FLOORING SERVICES
Weight Room Rubber Flooring
Rubber Athletic Flooring Systems
Racquetball Court Flooring
Volleyball Court Flooring
Squash Court Flooring
Home Gym Flooring
Sound-Proof Floors
---
RUBBER FLOORING
Rubber Flooring Installs
Rubber Floor Repairs
Rubber Floor Rejuvenation
Rubber Floor Water Damage Repair
Rubber Floor Logos
Rubber Gym Floors
---
BASKETBALL COURT FLOORS
Basketball Court Design
Basketball Court Construction
Basketball Court Surfaces
Basketball Floors
Basketball Gym Flooring
Indoor Basketball Courts
---
OTHER SPORT/FLOORING PRODUCTS
Covermaster Gym Floor Covers
Spalding Volleyball Equipment
Clarin Sideline Chairs
B.B. Sideline Chairs
Poloplaz Hardwood Floor Cleaner
Poloplaz Gym Floor Finishes
Mats Inc. Rubber Flooring
Spalding Basketball Goals
Marley Dance Floors
Sprung Dance Floors
Northwest Rubber Sports Floor
Mats Inc Spectation
PlayBound™ Playground Surfaces
Telescopic Bleachers
Basketball Goals
Gymnasium Wall Pads
Volleyball Equipment
Pickleball Courts
Futsal Flooring
Indoor Synthetic Turf
Batting Cages
Sport Courts
Scoreboards
Wood Weight Lifting Platforms
Gym Floor Covers
Gymnasium Wall Divider Curtains
Tennis Court Surfacing
FDA Hand Sanitizer
---
VINYL FLOORING
Vinyl Basketball Court Floor Installs
Vinyl Sport Floor Repairs
Vinyl Athletic Floor Rejuvenation
Sport Vinyl Floor Water Damage Repair
Sport Vinyl Floor Logo Printing
Commercial Vinyl Gym Floors
Vinyl Flooring Installers
Vinyl Floor Covering
Vinyl Gym Flooring
Marley Dance Floors
---
FLOORING BRANDS
Connor Sports Flooring
Connor Sports Wood Flooring
Connor Sports Synthetic Flooring
Connor Sports Vinyl Flooring
Traction by Connor
Tajima Sports Flooring
Tajima Vinyl Flooring
Everlast Sports Flooring
Everlast Weight Room Rubber Flooring
Everlast Rubber Flooring
Ecore Sports Flooring
Ecore Weight Room Rubber Flooring
Ecore Rubber Flooring
U.S. Rubber
Sporturf
---
MAJOR CITIES WE SERVICE
---
SOME OF THE MAJOR CITIES WE SERVICE IN TEXAS
SOME OF THE MAJOR CITIES WE SERVICE IN OKLAHOMA
Oklahoma City, OK
Tulsa, OK
Lawton, OK
Enid, OK
Norman, OK
Broken Arrow, OK
Moore, OK
Edmond, OK
Midwest City, OK
Stillwater, OK