TU's Connor Sports Flooring Provides Cushioning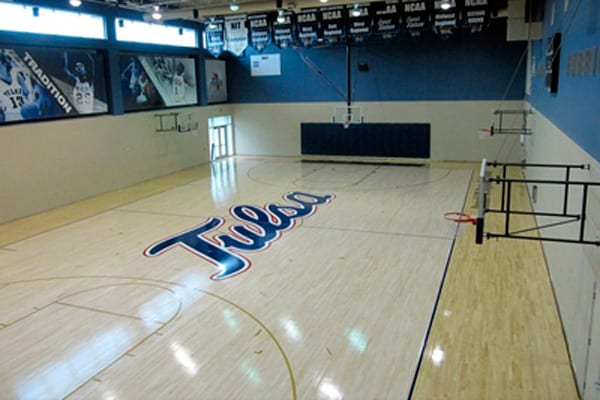 Article By BILL HAISTEN World Sports Writer | Tulsa World | May 29, 2013
The University of Tulsa has installed a new $90,000 court in its practice gym at the Reynolds Center. BILL HAISTEN / Tulsa World
TU Officials Hope New Basketball Practice Court Results in Fewer Stress-Type Leg Injuries
During the 2012-13 basketball season, as Golden Hurricane forwards Rashad Smith, D'Andre Wright and Brandon Swannegan sustained stress-type injuries in their lower legs, University of Tulsa coach Danny Manning and others began to suspect that the Reynolds Center practice court was too firm.
After the season ended in March, TU officials began the process of purchasing and installing a new floor in the practice gym. The old floor was original, installed in 1998.
"Technology has changed," Manning said. "This floor gives you a more consistent surface – very similar to (the Reynolds Center game court)."
From the Connor Sports Flooring company, TU bought two white-maple basketball courts – the new Reynolds Center game floor, priced at $110,000 and installed in October, and now the $90,000 practice floor.
Terry Hossack, TU's associate vice president of facilities, says a "sleeper system" is positioned beneath each of the new courts.
"That means it's a raised floor with a cushion on the bottom," Hossack said. "There is a rubber surface – about a half-inch thick – that raises the floor. The old (practice) floor had something comparable, but it probably wasn't to the quality of the new technology."
Smith and Wright were sidelined for a combined total of 38 games. Smith seemed positioned for a big season, but played in only four games. He watched the rest of the season from the bench.
Asked whether the university had determined that the hardness of the practice floor caused leg injuries, Hossack replied, "It could have been a factor, but it was one of probably 10 things that could have caused the rash of injuries.
"It's cyclical. There were four or five years when we had no (similar injuries), and then this past year we had several kids who had problems.
"The timing was right to shop the market and see what was out there. We want the best for our athletes."
---