Telescopic Bleachers:  Benefits for Venue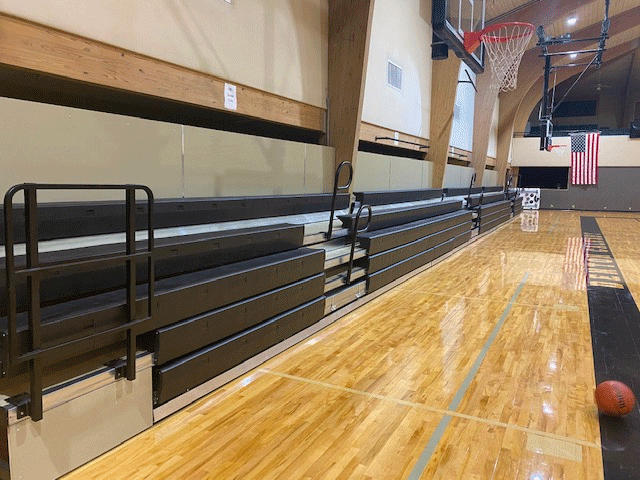 Explore the Benefits of Telescopic Bleachers for Your Venue
Are you looking for seating access that is comfortable and adjustable for your event venue in Texas? Telescopic bleachers offer a flexible way to accommodate events with varying crowd sizes. Telescopic seating is an effective option to provide safe and secure seating while offering a great viewing experience in many sports and entertainment venues.
Z Floor has over 25 years of experience installing telescope bleachers. Our team ensures your telescopic bleacher seating is built correctly, structurally sound, and safe. We offer complete installation and repair services throughout Texas, Arkansas, Louisiana, and Oklahoma.
Telescopic bleachers are quickly becoming the most popular seating option in schools, sports venues, corporate events, and similar facilities. They come in various sizes and configurations, so seating accommodations can be quickly altered without purchasing new, fixed seating. Here are a few benefits that telescopic bleachers offer:
Functionalities: By nature, telescopes can be easily used by adjusting their length. The telescope also allows for more space in areas where space accommodations can be an issue. This way, you can use it for small or huge audiences.
Flexibility: Telescopes feature an intuitive setup and configuration process, which makes them easy to modify as per the width of seating or standing room desired. You can also move the bleachers in different directions according to the facility's space requirement.
Safety: As safety is our top priority, we ensure to install of the telescope bleachers precisely according to the designed specifications for added durability and stability. Telescopes can also be equipped with railings for additional security.
The telescopic bleachers from Z Floor are designed to meet safety standards while providing a comfortable experience. Our team ensures quality with proper installation processes that adhere to safety regulations while helping you create your dream venue. A warranty backs all our work so you can rely on us with peace of mind. Photos
For an ideal solution that offers adjustable seating levels, contact ZFloor Sports Flooring today to get our services throughout TX, AR, LA, and OK.
---