Add a Gym Floor Logo: An Easy Way to Create an Impression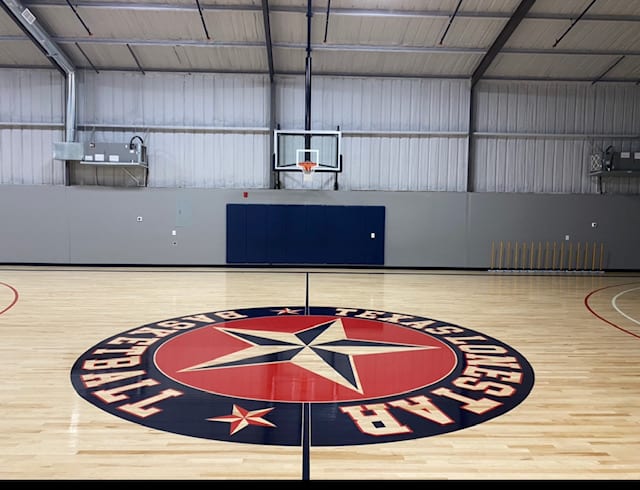 Gym Floor Logos
Regarding gym flooring, few design options can genuinely set your facility apart. Adding a logo to your gym floor is one of those unique touches that will immediately help create the right impression! It can show that you are a professional outfit with an eye for detail who takes pride in giving their competitive athletes and active members the best.
Gym floor logos come in all shapes and sizes, from a simplified monogram of the facility's initials to full-color designs featuring team mascots or complicated artwork. You can even mix two or more separate logos to create a distinctive design that can't be missed. Several techniques can be used to add a logo or design to gym floor surfaces. Z Floor Wood Flooring is available to consult with you on which method would work best for your desired look.
Inlays are the most common way to add a logo to your gym floor. We use this method at Z Floor Wood Flooring, as it allows us to take a photograph of any design and recreate it accurately on the floor surface. The result is a high-resolution imprinted artwork that catches the eye and elevates your facility's professionalism. This technique can also be applied over challenging areas such as bleachers, where other methods may struggle.
Another popular choice for adding any form of design to your gym floor is custom painting. This is why many gyms opt for color changes or simple techniques without too many intricate details; it allows us to use professional painters with enough experience and skill to deliver outstanding results anywhere in Texas, Arkansas, Louisiana, or Oklahoma.
Contact Z Floor
Whether through inlays or painting solutions, ZFloor Wood Flooring is here to ensure your gym floor logo installation looks great and leaves a lasting impression on its users. We can also install or repair your sports floor. Contact us today and learn how we can help you realize your vision!
Check out our photos of gym floor logos!
---