Athletic Wood, Sports Vinyl, Recycled and Vulcanized Rubber Flooring, Gymnasium Athletic Equipment, COMMERCIAL Floor Demolition, and Repair
ZFloor Co., Ltd. is a leading provider of athletic flooring solutions in Texas and Oklahoma. Our services include the design, construction, installation, repairs, and maintenance of wood sports floors, sport vinyl flooring, weight room rubber flooring surfaces, and commercial floor demolition and repair. We also provide professional installation and maintenance of gym equipment. We take pride in our high-quality work and exceptional customer service.
---
Contact a Sports Flooring Expert
---
Flooring Manufacturers
We partner with the following flooring manufacturers:
Connor Sports Floor
Connor - Traction – Vulcanized Rubber
Ecore Weight Room Rubber Flooring
US Rubber Survivor Rolled Rubber
Tarkett Omnisports Vinyl Flooring
Marley Vinyl Dance Floors
Snapsports Modular Sports Tile
Sporturf
Design and Performance Center
---
---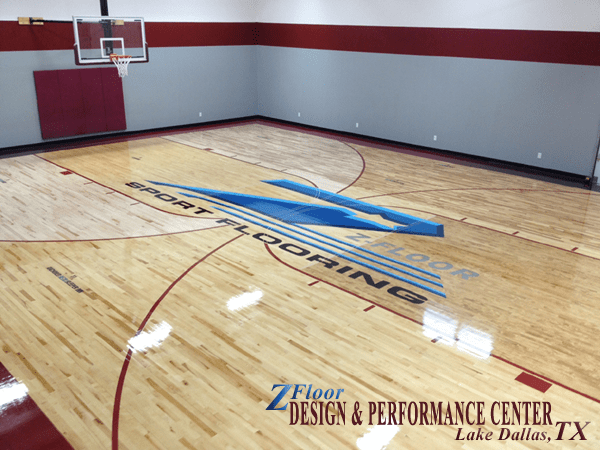 At Z Floor's Performance and Design Center, located in Lake Dallas, Texas, individuals such as owners, designers, and architects can gain a comprehensive understanding of athletic flooring and gymnasium equipment. Our team offers an in-depth examination of the pros and cons of five popular sports surfaces, including
Resilient Athletic Wood Flooring
Modular Tile
Sports Vinyl Flooring
Vulcanized Rubber Flooring
Pad and Pour Synthetic Flooring
Visitors can experience these surfaces firsthand through our selection of over 20 interactive pods, providing the opportunity to view design options and test the flooring's durability. As a full-service provider, ZFloor Co., Ltd. can supply and install the surface that best suits your facility's needs and provide budget estimates for gym equipment, gym floor covers, and yearly maintenance costs.
We would love to visit with you. Contact Us today to schedule a visit.
CONTACT US
Subscribe to our mailing list:
Stay updated with all the latest updates, upcoming events & much more.
Gymnasium Equipment Manufacturers
---
We partner with following gymnasium equipment manufacturers for basketball goals, volleyball net systems, divider curtains, wall pads, tilt and roll bleachers, and batting cage netting:
If you are a public school, private school, university, health club, dance studio, cross fit, performing arts center, religious facility, or recreation center you have come to the right place.
Athletic and Gym Flooring Services offered by Z Floor
---
WOOD FLOORING
Wood Floor Installs
Screen and Recoat Hardwood Floors
Screen and Recoat Gym Floors
Wood Floor Repairs
Wood Floor Sand and Finish
Wood Floor Water Damage Repair
Gym Floor Logos
Wood Flooring Installs
Basketball Wood Floors
Sport Flooring
Gym Floors - Resurfacing
Gym Floors - Refinishing
Hardwood Floors
Wood Floor Staining and Bleaching
Dance Floors
Sprung Floors
Marley Floors
---
RUBBER FLOORING
Rubber Flooring Installs
Rubber Floor Repairs
Rubber Floor Rejuvenation
Rubber Floor Water Damage Repair
Rubber Floor Logos
Rubber Gym Floors

---
VINYL FLOORING
Vinyl Basketball Court Floor Installs
Vinyl Sport Floor Repairs
Vinyl Athletic Floor Rejuvenation
Sport Vinyl Floor Water Damage Repair
Sport Vinyl Floor Logo Printing
Commercial Vinyl Gym Floors
Vinyl Flooring Installers
Vinyl Floor Covering
Vinyl Gym Flooring
Marley Dance Floors
---
BASKETBALL COURT FLOORS
Basketball Court Design
Basketball Court Construction
Basketball Court Surfaces
Basketball Floors
Basketball Gym Flooring
Indoor Basketball Courts

---
OTHER SPORT/FLOORING PRODUCTS
Covermaster Gym Floor Covers
Spalding Volleyball Equipment
Clarin Sideline Chairs
B.B. Sideline Chairs
Poloplaz Hardwood Floor Cleaner
Poloplaz Gym Floor Finishes
Mats Inc. Rubber Flooring
Spalding Basketball Goals
Marley Dance Floors
Sprung Dance Floors
Northwest Rubber Sports Floor
Mats Inc Spectation
PlayBound™ Playground Surfaces
Telescopic Bleachers
Basketball Goals
Gymnasium Wall Pads
Volleyball Equipment
Pickleball Courts
Futsal Flooring
Indoor Synthetic Turf
Batting Cages
Sport Courts
Scoreboards
Wood Weight Lifting Platforms
Gym Floor Covers
Gymnasium Wall Divider Curtains
Tennis Court Surfacing
FDA Hand Sanitizer
---
OTHER FLOORING SERVICES
Weight Room Rubber Flooring
Rubber Athletic Flooring Systems
Racquetball Court Flooring
Volleyball Court Flooring
Squash Court Flooring
Home Gym Flooring
Sound-Proof Floors
---
FLOORING BRANDS
Connor Sports Flooring
Connor Sports Wood Flooring
Connor Sports Synthetic Flooring
Connor Sports Vinyl Flooring
Traction by Connor
Tajima Sports Flooring
Tajima Vinyl Flooring
Everlast Sports Flooring
Everlast Weight Room Rubber Flooring
Everlast Rubber Flooring
Ecore Sports Flooring
Ecore Weight Room Rubber Flooring
Ecore Rubber Flooring
U.S. Rubber
Sporturf
---
FLOOR REMOVAL SERVICES
Commercial Floor Removal
Concrete Grinding
Mastic Removal
Concrete Leveling
Vinyl Tile Removal
Wood Floor Demolition
Ceramic Tile Demolition
Luxury Vinyl Tile Removal
Asbestos Removal
Sport Floor Removal
Sports Court Demolition
---
MAJOR CITIES WE SERVICE
---
SOME OF THE MAJOR CITIES WE SERVICE IN TEXAS
SOME OF THE MAJOR CITIES WE SERVICE IN OKLAHOMA
Oklahoma City, OK
Tulsa, OK
Lawton, OK
Enid, OK
Norman, OK
Broken Arrow, OK
Moore, OK
Edmond, OK
Midwest City, OK
Stillwater, OK
---